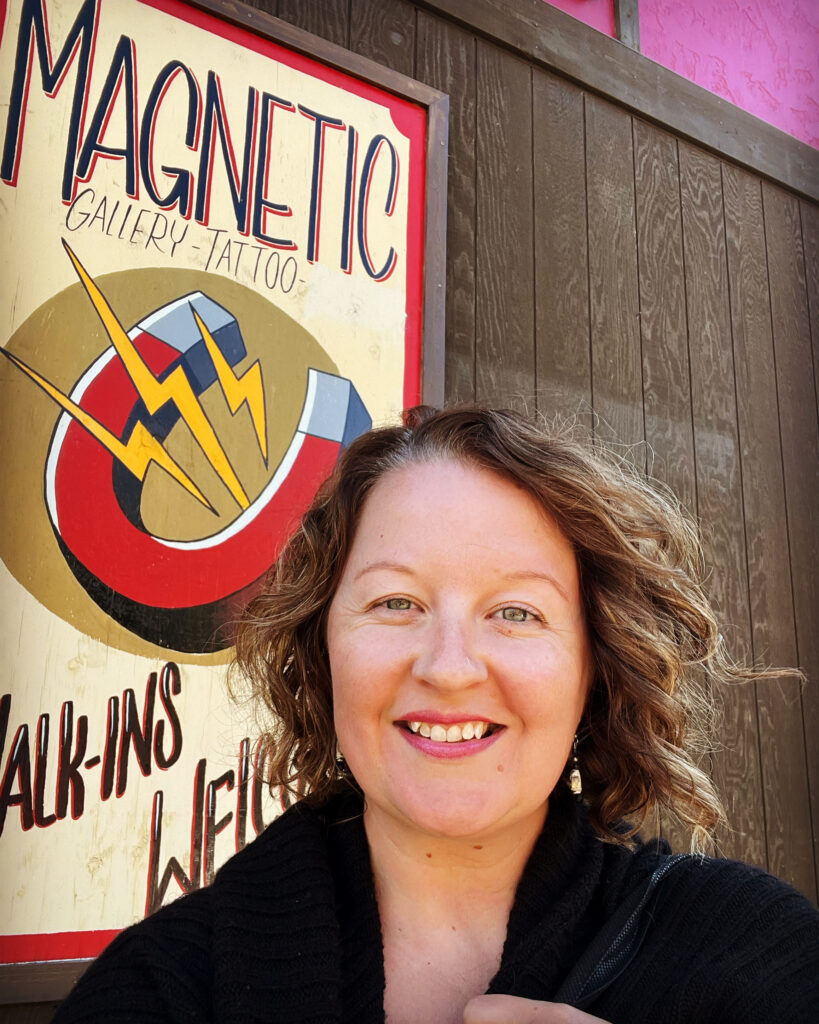 It had been a while since I'd been struck with The Idea for a tattoo. I always have a handful of maybes in my mind, but when I get The Idea, I usually know it right away. That simply hadn't happened, not since March.
Then two things happened in quick succession. First, my awesome coworkers — thank you Cindy, Abbey, and Liz — banded together and gifted me a tattoo for a birthday + graduation present. (They specifically got me a gift certificate for Magnetic, my studio of choice. How amazing to be known that well!)
The second thing that happened is that my brother Bradley sent me this False Knees webcomic, "every song opens another portal," simply thinking I'd enjoy it. (Again, how amazing to be known so well.) When I saw that final panel, I knew I had The Idea.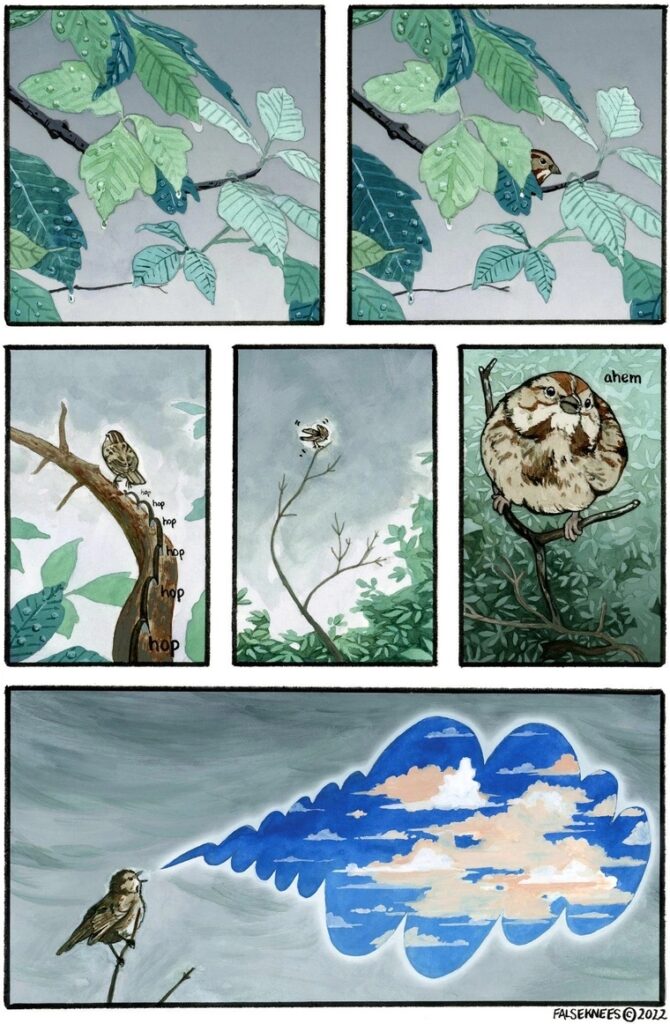 You know I love a story or reason behind a tattoo. I was drawn to this concept for a few reasons:
The image arrived by way of Bradley
The gift of the tattoo came from my coworkers at the Colorado Music Festival, so I loved that music was central to the concept
BIRDS! (Good lord, this is bird #5 for me, #6 if you count chicken legs)
To me, the final panel is a metaphor for art (and specifically, for me, poetry)… the idea of singing an entirely new reality into being, of making a brighter world through art
As always, Cambria brought my idea to life. I wanted it to be inspired by the False Knees comic but not an exact duplicate.
By the way, many artists offer what I've seen referred to as a "tattoo ticket," which is a type of tip jar where you can send the original artist some cash in exchange for using their artwork as a tattoo. Even though I didn't use Joshua Barkman's literal artwork, I certainly used his idea, so I did contribute in this way. You can see other examples of how people have used this artist's work for their own tattoos on his tattoo ticket page.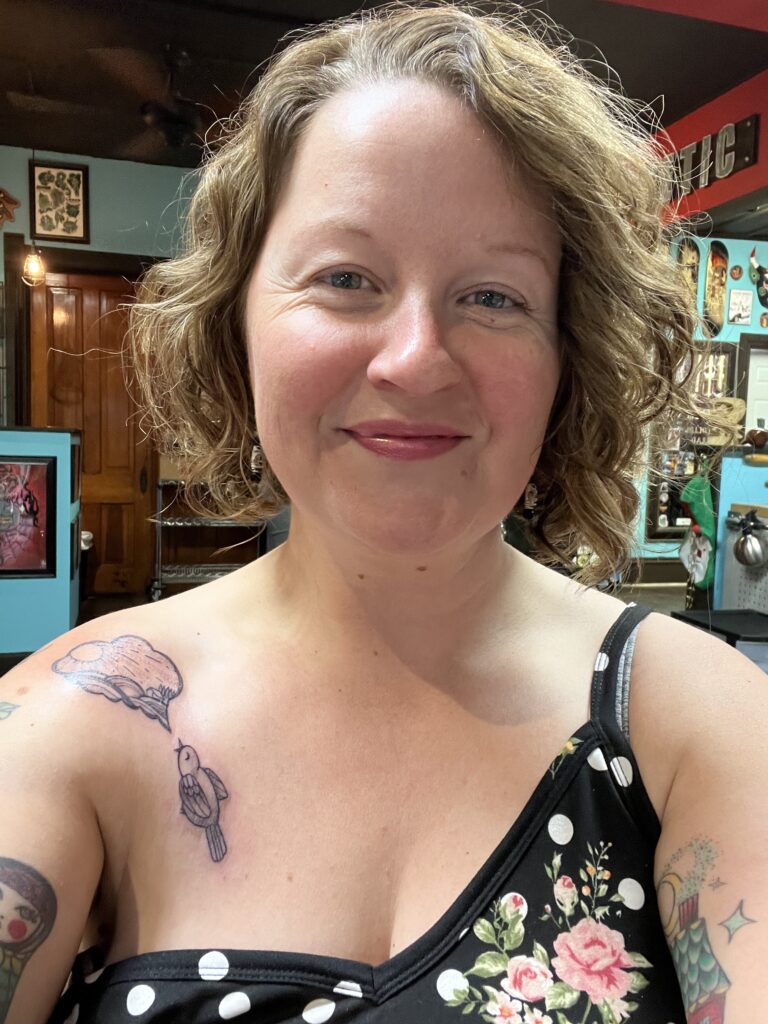 Here is the partially finished result. I titled this entry "part 1" because there are two more steps: I am adding another bird to the opposite shoulder (this new bird will be "singing" a different image), and then I will have them colored in once Cambria and I can see them both in action.
More to come!
P.S. Based on how joyful the photo below makes me feel, I'm going to need to start shopping for an entirely new wardrobe that shows this piece off…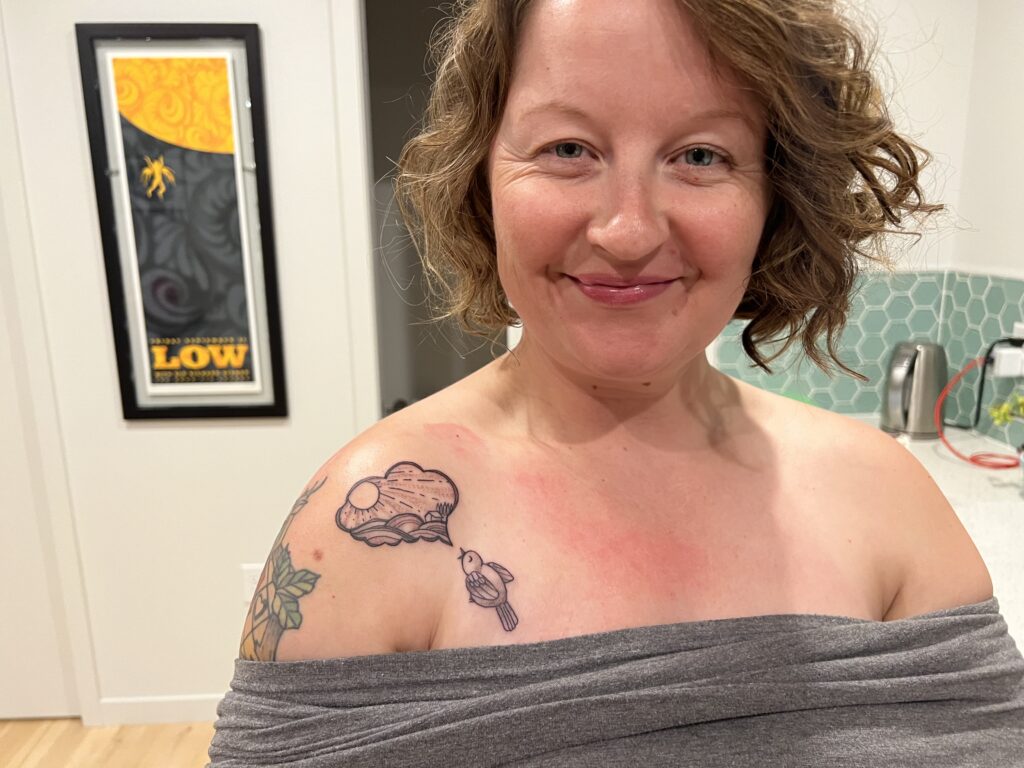 Earlier tattoo pictures and stories:
Hazel's love letters (March 2022)
The Wreck of the Hesperus (August 2021)
The lion who knocks (January 2021)
A Halloween tattoo for Hazel (October 2020)
My pandemic tattoo: the quail (September 2020)
Baba Yaga's house in color (January 2020)
Baba Yaga's house, line work (December 2019)
Nesting doll (August 2019)
Cuckoo clock, color (April 2019) 
Finch and satellite (February 2019)
Cardinal (November 2018)
Cuckoo clock, line work (September 2018)
Lavender and key (August 2018)